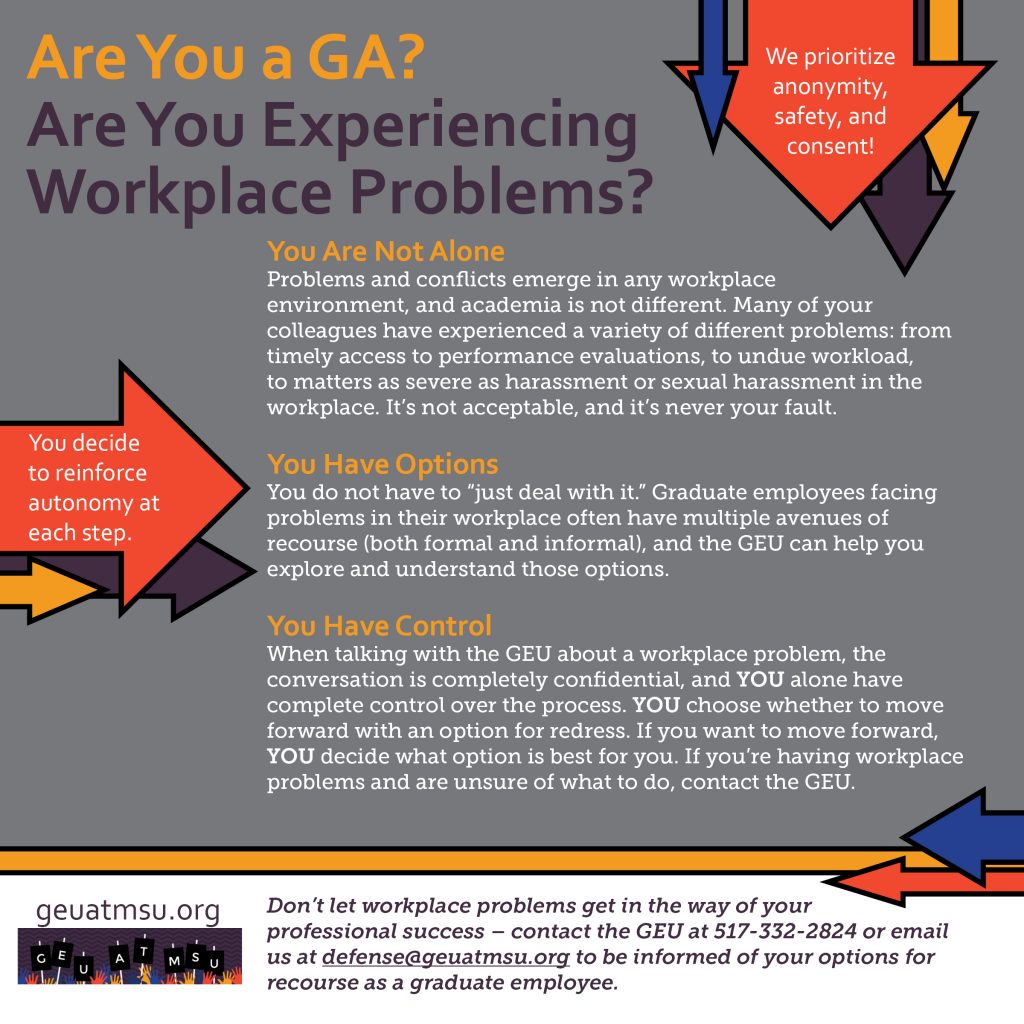 What's a Grievance?
Grievances are formal complaints about contract violations. A grievance is defined in our contract as "a written complaint involving an alleged violation of a specific provision(s) of the Agreement and remedy sought…The primary purpose of this procedure is to secure, at the lowest level possible, equitable solutions to the grievance(s)." Some grievances are more common than you might think. If you find yourself concerned about any of these scenarios, contact us at defense@geuatmsu.org.
Help protect and enforce your rights!
---
Common TA Grievances
Appointments
All newly appointed and re-appointed employees shall receive a letter of appointment that specifies:
Title
Appointment fraction
Effective dates
Salary
Teaching or work schedule
Supervisor's name
The reappointment letter should not contain any language that attaches the offer of employment to funding or budget contingencies.
The employing department will notify an employee of a decision to reemploy or not to re-employ as an employee.
Workload
The GEU/MSU contract is very specific about the number of hours TAs should be working on their appointment. The following are maximums:
10 hours per week for a ¼ time appointment
20 hours per work for a ½ time appointment
30 hours per week for a ¾ time appointment
What Counts as Work?
Any work associated with your assistantship should be included in your workload tally. This includes:
orientations,
prep and grading
proctoring exams
office hours and answering student emails
staff meetings
teaching
If you have questions about your workload or what constitutes work under your assistantship, call the Union! You might also use an appointment worksheet to establish expectations in advance.
Working Beyond your hours
If you suspect you may be working beyond your appointment fraction, it would be helpful to have a reliable log of all of the time you spent on your TA appointment.
The contract allows the Union to file overwork grievances up to 30 days after the semester ends. Teaching Assistants who believe they have worked more hours than the average allowed for by their appointment fraction are encouraged to contact the Union.
Email: defense@geuatmsu.org
Phone: (517) 332 – 2824
How the Grievance Procedure Works
Filing a grievance simply involves contacting administrators to discuss and resolve workplace issues. Experienced GEU leaders and staff will hear you out, help you decide whether and how to proceed with your grievance, and will attend and help represent you at meetings at each stage of the process.
Click here to learn more about the Grievance Procedure.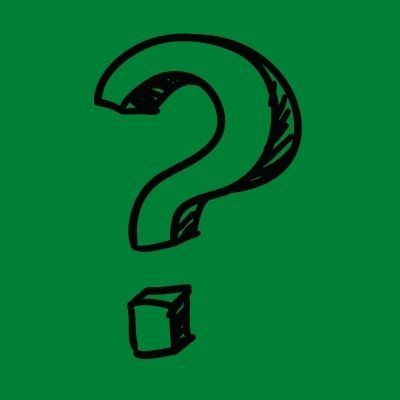 Not sure you have a grievance?
Contact the GEU VP for Contract Negotiations and Enforcement to discuss ANY potential problem. Sometimes you just want someone to hear you out, and that's okay. We're here for that too.
Sometimes the issue isn't purely employment-related, and that's okay. We're here to help you navigate the academic grievance process, too. Sometimes the issue doesn't constitute a formal contract violation, and that's okay.
We're here to help you figure out remedies outside of the grievance procedure as well.