My observation since interacting with the passionate and talented members of GEU has a lot of features, but I will highlight a few.
It is an honor and privilege to work with you to benefit all the people in this community. I have seen members take charge and champion projects— an activity of sharing. The things that I am most proud of Graduate Employees Union for having done are only possible because of members. In departments and programs all over campus, there are folks who care about the wellbeing of their friends and neighbors. A few of those caring people devote some of their limited time to helping, but more help is needed. (see graphs!)
The principle behind our Union's continued existence is that even if a snapshot-in-time of the average graduate assistant's experience would show a person who is time-limited, running on empty, and struggling to improve themselves– there are some folks at any given time willing and able to help their friends and neighbors.  In the most basic view, the structural underpinning of the union is to serve the crucial role of allowing graduate assistants to be recognized and bargain collectively for a fair and decent contract every few years, and to enforce that contract. But it is so much more than that. The "union" works to ensure that graduate assistants are treated fairly, compensated fairly, and have a quality life while they are here. It is a community of people who care about the fate of one another. But for this balancing of interests and voices and fates to happen, graduate assistants have to stand and work in solidarity with one another. The members ARE the union.
To illustrate in a different way what many of you have heard me talk about, or maybe are just now becoming aware of, I have made a simple set of diagrams. The idea here is if we examine only your collective time and ability to help, what amount of energy would the "union" have for doing the works we all count on and benefit from? First, representing semesters where the union is struggling to engage members: I took 10 hypothetical individuals, (active members) and represented their experience in terms of time and energy using a pseudo-random generator (thanks excel!). I populated a range of values from 0 to 100 across a period of weeks for each person, representing the seemingly random events that make the lives of graduate students go from difficult to impossible, and then ease up. If the index of an individual's time/ability to help was greater than 70 (life is difficult, but not impossible), they contributed to the union. If not, they didn't. The help of those active people accrues by week, and each week is a new effort. If, by pseudo-random chance, in a given week nobody had greater than 70 (all 10 are facing impossible burdens) the union would have no help. We'd all be in this alone. In some cases for that period of time (just a week), there are acute losses, but in the 'real world' version of this, the effects of an underpowered union are much more treacherous.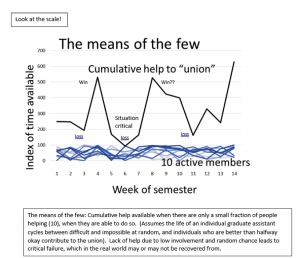 Then, to simulate what happens if two times as many people were helping (still a small fraction). Again, representing their ability to help using a pseudo-random generator (thanks again excel!). Each of the 20 individuals is given time/energy across a period of weeks. If their index of time/ability to help was greater than 70, they contributed to the union. If not, they didn't. The help of those active people accrues by week, but if, by pseudo-random chance in a given week nobody had greater than 70, the union would have no help. When there were a few more people, the random distribution of impossible circumstances (across the larger community) had a smaller cumulative effect, so that there never was a time when the union had no help. We all could count on our friends and neighbors to have our backs in a time of struggle.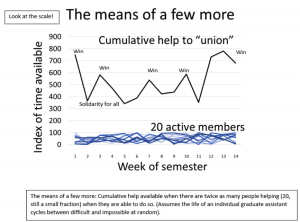 While the peaks here are eye-catching, the overall shape is still random. What matters here is that with enough hands helping, you as a member will never be alone. There's enough energy to advocate, handle grievances, and have thriving committees. But what also means, is if you're in a position to help even a little and you don't, the whole system falls apart.
Some examples of the union providing a place and means for members like you to help one another are featured in the newsletter. If you want to know more, feel free to reach out.
I also want to address briefly what I have seen from the Executive Board you elected:
Sam Lipschutz – the Supreme Treasurer. In addition to managing the Treasurership, Sam has devoted his time, energy and considerable talents to creating an analytical structure for managing member information, through which we can identify gaps in our outreach, the university's handling of pay and membership, and areas where support is needed. Sam and Budget Committee's analytical skills allow the union to better serve the members. I cannot give you an estimate of the total time in an average week he has worked for you, while also excelling in the best physics program in the country. He and the Budget Committee also manage the Solidarity Grant Program, which you can read more about in this newsletter. If you're experiencing an acute hardship, this is one of the most direct ways the GEU community has shown their caring goes beyond "wishing you well."
Charles Loelius—the Vice President of Organizing and Outreach. Charlie has written on behalf of and contributed to numerous efforts for the benefit of this community. He has worked to inspire action among our members, to draw attention to a vision of a more just and compassionate reality. He has an agenda: to make your life better. He also has worked to improve the efficacy and enthusiasm of the Stewards Council.  Also in physics, Charlie stepped in to help when someone else had stepped down, despite having considerable time commitments to the Council of Graduate Students, where he is the Recording Secretary.
Meredith Place— Staff Organizer. Meredith has worked with us since last spring, and has made a herculean effort to build and maintain relationships with folks across campus and our contacts in the Office of Employee Relations (HR). We are counting on her to be the constant as leadership shifts. She also was responsible for guiding the part-time organizers' efforts to do outreach on campus, which resulted in drastic increases to membership and service. Many member's first conversations about the union have been with Meredith.
Kelly Stec – Vice President for Contract Enforcement has taken the job of enforcing the contract as a personal calling. I don't like to speak from the position of dispelling myths, but I feel like there is a misconception: winning a great contract does not mean we can all relax. None of us should feel relaxed, or as if our community is done working if ANY of our friends and neighbors are suffering.
This is not a fight against the university. This is a fight we are in together. While there are a few folks who need to be reminded occasionally that our members deserve to be treated fairly, on average, your advisor, the undergrads in the classes you teach or the labs you run, and your colleagues, are talented people deserving of respect and support. Supporting your union is a part of caring about your university, and your current and future wellbeing, and that of the people around you and who will be here when you leave. There are conflicts, disagreements, and disparities in power and vision. But with your help in those times when you can afford to look outside of your own immediate needs, when you and others can gather your energies together and focus as a community on what we can agree is a vision we all share, then we will be successful. Together we are capable of tackling problems of a bigger scale and greater complexity than any of us would be individually. And usually, we all have some fun doing it.
We look forward to seeing you all soon.
In solidarity,
Elle Gulotty