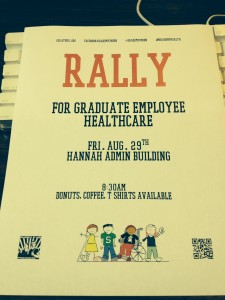 BACKGROUND: In May, GEU leaders attended a regularly-scheduled meeting at which representatives of MSU's Office of Employee Relations unexpectedly informed us that MSU was intending to increase how much we pay for medical care by raising prescription drug co-pays, deductibles, out-of-pocket limits, and co-insurance rates for plan year 2014-2015. We have now met with the administration on this issue several times and want to make sure all GEU members are informed.
MSU and Aetna believe that they must make these changes because of certain requirements of the Affordable Care Act. We at GEU have researched the new ACA stipulations, however, and it's clear that they are not applicable to our health care plan. Moreover, since health insurance is a benefit we have negotiated through collective bargaining, MSU cannot legally make the proposed changes unilaterally.
MSU believes that our health insurance plan is a student health insurance plan. According to the ACA, student health insurance plans are a type of individual health insurance coverage and therefore must have a certain "actuarial value"—an average percentage of the medical bills that the plan will pay for. Our current plan's actuarial value is higher that what the law requires of individual health plans, so MSU and AETNA believe that the value of our plan must be reduced by increasing out-of-pocket costs for GEU members.
We have told the administration that they cannot make any changes to our health insurance for two reasons.
First, our plan is not an individual plan. Individual health insurance coverage is purchased by individual enrollees who do not receive job-based coverage. We, on the other hand, receive our health benefits as a result of our employment by the university. It is what the ACA calls a group plan, and under the ACA group plans are not required to conform to set actuarial values.
Second, the benefits levels that we all enjoy were negotiated and ratified by the GEU
membership after the last round of collective bargaining in 2011. As such, the university is
obligated to uphold the terms of that collective bargaining agreement. It's a binding contract that can't be changed by one side.
We have informed the administration that if they make any changes without our consent, we will file a grievance over the issue and charge them with committing an "unfair labor practice" (i.e. breaking the law by not doing what the contract says).
The administration may try to make the changes anyway, choosing to side with an insurance company rather than standing up for GAs. If they do this, we will see noticeable increases in the out-of-pocket costs on our medical bills. This would be a serious extra burden on us, and while we will challenge these changes on legal grounds, we will all also need to collectively respond to the administration's actions.
We will keep you fully informed. If you'd like to become more involved on this issue, please contact the union office at geu@geuatmsu.org. Follow us on facebook and twitter for updates.